Radio Free Phoenix is now in its 11th year of serving you Free Form Rock – Commercial Free – 24-7! With over 16 thousand songs — RFP brings back freedom and diversity to radio!.
Listen to a station that has the heart, soul and passion that once peppered the great underground rock stations of the past. Radio Free Phoenix plays–Rock, Folk, Blues, Psychedelic, New Wave, Americana, Progressive, 60's, 70's,80's, 90's, 00's and new music too.
The New Radio Free Phoenix T-Shirt is Here!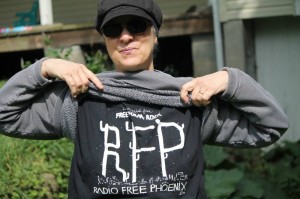 Get a Shirt with Attitude!
Brand New Mike Condello CD of unreleased Material + Mascott Records –
The Jack Curtis Story + Frank Fafara – Only In My Dreams CD!
Click on CD pics for more info on how to order from RFP!
Radio Free Phoenix plays–Rock, Folk, Blues, Psychedelic, New Wave, Americana, Progressive, 60's, 70's,80's, 90's, 00's and new music too.Let us know what you think of the programming. Email us at music@radiofreephoenix.com
RADIO FREE PHOENIX AIRSTAFF

 Gary Laatch           Andy Olson          Liz Boyle             Dave Cooper        Joe Catanzaro
Michael Thomas, Jr.            Paul & Anthony                               Sharon Kelly                        
 Max & Lenise         Miss Holly King     Tom Tuerff
Also check out RFP's sister station