As published in The East Valley Tribune, March 16, 2005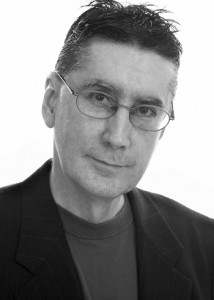 Stu D. Baker
As the owner of Tempe based Hayden's Ferry Records, Stu Baker never planned on hosting a radio program, much less three of the most unusual hours on Valley airwaves.
Baker's brainchild — ''Jukebox Cantina,'' the only Valley radio program devoted to Americana music — airs at 7 p.m. Fridays on Globe's KRXS (97.3 FM) and is replayed at 2 p.m. Sundays.
"I was sending (KRXS) records, so they had heard about me,'' Baker says. ''They called and asked if I'd be interested in doing (a radio show).
''I said, 'Well, sure, as long as I can play whatever I want.' And they said, 'We want you to.' "
In May, Baker, who records the program digitally in his home studio, will celebrate five years on the air, a remarkable longevity for a program that plays music that is still underground as far as the mainstream music audience is concerned.
"My version of Americana includes everything from what is currently coming out — like Alison Krauss and Lucinda Williams — and for me it goes back to the Marshall Tucker Band and anything else that can loosely be connected with a country-rock and a country feel," says Baker, who answers e-mails and programming suggestions via his Web site,
Baker routinely plays talented but relatively unknown performers such as Texas honky-tonker Jesse Dayton, Texas group Reckless Kelly and neo-noir country chanteuse Neko Case, as well as better-known commodities such as John Fogerty, Nanci Griffith and even The Beatles.
The show also includes local talent such as Roger Clyne and the Peacemakers, Truckers on Speed and The Pistoleros.
"The local aspect is what I like," Baker says. "It gives those bands a chance to get airplay."
Bringing lesser-known talents to a broader audience is Baker's passion, and his playlists reflect a philosophy that artists not as well-known as Tim McGraw or Toby Keith aren't necessarily less viable musical forces.
Over the past few months, KRXS has been interjecting more and more Americana artists into its daily mix.
"A lot of people have been calling in, and the more that people react to (Americana), the more they are going to give time to that,'' Baker says. "It's kind of been one of my little agendas, I guess I could say, and a not-so-secret agenda.
''The radio market in town is hungry for a new, fresh station, and Americana is part of that. The station is now showing up at the bottom of the Arbitron ratings, which is a big coup for a small station."
While the tiny Globe station's signal is hard to receive in parts of the Valley, changes in the next few weeks at KRXS will boost it.
"In about two to three weeks, they're going to switch to 94.1 FM and they are changing their call letters to KRDE, and will be called 'The Ride,' " Baker explains. "When they do that, it is going to be a little bit clearer for most people."
For Valley listeners who cannot receive the signal now, ''Jukebox Cantina'' streams on the Internet.
"There is a local Internet radio station called Radio Free Phoenix that picked us up and streams the show in its entirety on Sunday at noon," Baker says.
Baker, who was raised on rock 'n' roll but discovered a love of country-rock in college, does not spin much, if any, mainstream country on his show.
"It's country like it ought to be," Baker says of ''Jukebox Cantina.'' "The Nashville country — it went so commercial at one point, it's so formulaic. It's not a question of right or wrong, it's just a matter of taste in music — everybody likes some kind of music, but what we're talking about with Americana is just a wealth of beautiful, great music that kind of gets ignored.
"There are so many people out there who have no idea how much a fan of this music they'd be until they hear it."
Chris Hansen
East Valley Tribune