It was on Halloween, Monday, October, 31, 2005, that My best friend, Bennie Baressi died tragically when he was hit by a speeding SUV at the corner of 43 Ave and Northern in Phoenix. The last song he played was an acoustic version of "Leaving On A Jet Plane" for a couple of  girls he met. He finished the song and  jumped on his bike (with guitar on his back for the ride home).
Bennie Baressi was a gifted singer-songwriter and was an explosion of musical ideas from the day he picked up his first guitar.  He touch many people in his life and the following are some of the tributes we received in his honor…..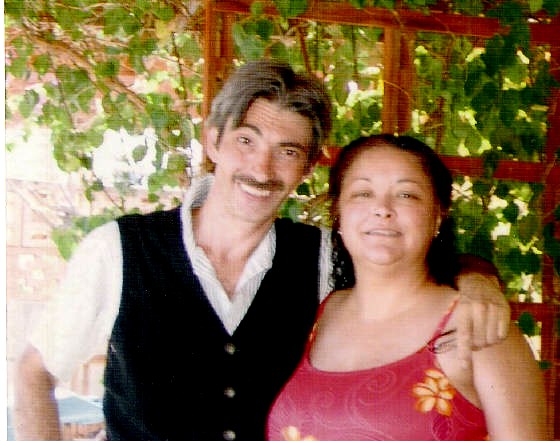 Ben & Eileen
Sorry to hear this sad news.  Ben was such a nice guy.
Mike and Kathy Mazurowski
When I met Ben 32 years ago I had no idea what an important part of my life he would become. We shared good times and bad and our friendship weathered the years. He was my brother. There is a void in my life that will never be filled yet he will be with me always. Goodbye Ben, my friend.
Fred Cawthon
I am so sorry for your loss, my heart aches for all who knew him.  He was a bright star in a sometimes dim world.  Bennie will delight all who are with him now as he plays his music in heaven.
Cheryl Sweet
Eileen and Ben's Family,
May GOD be with you in your time of sorrow.  Ben will be remembered for the wonderful love that he had for life.  Eileen, remember that you have friends to help you through this hard time.  Please call me if you need anything at all that goes for his family too.  I worked with Ben while he was at Maverick House and he was truly cared about by staff and friends he met here!!!
God Bless!!
Michelle Cordova
Bennie was one of my oldest and dearest friends. His smile, laugh and wonderful musical talent will be greatly missed. May God smile upon you Ben!
Andy Olson
Thanks for letting me know, Andy.  I remember Bennie quite fondly.
Alice Fitchet
Comments: Im soooooooo sorry for your loss,you are in my thoughts and prayers.
Laura Pope (a dear friend of Patti's)
I know Ben will be greatly missed by his new recovery family and you his family as well. All of us here at Maverick House lost a great client but he will never be forgotten.  God Bless.
Kay Filippone (Maverick House)
Peace and comfort to your family.
Diane De George
Gone but not forgotten! Gonna miss you BEN!!!
Tracy Jaramillo (Maverick House)
Ben, You gave a bit of sunshine to me when we met. I will miss you.
Allan Gange
Goodbye Ben
Bridget Sharpe
My condolences to Ben's family and friends.  I met him at Andy Olson's wedding and have been enjoying the music Andy has sent out in tribute.
Sincerely,
Liz Boyle
Radio Free Phoenix
Goodbye Bennie, and yes you will always be missed. Thank you for being a friend of mine for 37 years or more. Memories and music will always be a part of a wonderful friend and brother. I love you and always will.
Chester Wright
You are an inspiration to myself and others Ben. See you at Home.
William S. Kissel
Just got the news..very sad today..will post a few things later and set up a site with some pictures. We have a lot of them from when we were "Horsebeeks".
Matt and Tambra
I am Matt Schoneberg's little brother. Only met Ben a couple of times but my brother and his wife Tambra really loved Ben and I will have to listen to some more music that they did together as a trio. Goodbye Ben.
Fred Schoneberg
Ben was one of my dearest friends in Phoenix. In recent years we grew apart which I regret…he was a sensitive, vibrant amazing talent…we had so many good times. I felt we were like brothers. Ben you will always be alive in my heart & I will carry your infectious smile & laugh in my memory forever…Rest well my friend…
Jeff Jones
BEN I'll miss your kind soul always. We'll sing again soon someday.
Ken Sowell
Much will be missed with Ben. Don't forget friends like these.
Marconias
Goodbye my best friend, soulmates till the end. Now you're heading down another road, singing a little tune as you disappear around the bend. Goodbye my sweet sweet Ben.
Beany
I will never forget Bennie. He always made me smile even when I didn't want too. I know he's smiling now. I will really miss his music. I know my boyfriend will always think of him every time he plays his guitar. He wrote a very special song in Bennie's memory. We will really miss him!
Janet Ryan
Ode To The System – Bennie's Song
When I returned From war
The boy next door played the guitar
We all had dreams of becoming a star
So Bennie played his guitar
Learned sweet songs to play at the bar
So Bennie played his guitar
Learned sweet songs
Self-medicated and in depression
It was no way to build his ambition
So Sheriff Joe's men turned his drugs into lithium!
Said he did not need his mom or girlfriend
Hey Joe, you never thought, they may have needed him??
Now Bennie's in heaven, playing his guitar!
Finely free of the system!
Bennie played his guitar
He did not see the car
If you knew Bennie, you'd know he's grinin'
Now I only have one question?
Hey Joe, are you sure Ben needed your protection?
For without it, we can only make a projection
I can hear Bennie playing
No longer in fear of our drug war
Bennie playing his guitar
With no one to say he's not a star
Bye to the man next door
Ben, you know I'll miss you
So lucky to have know you.
Rodney Vaun Zohner  rvzjer@aol.com
Editor note: Bennie was the victim of a long and intense campaign of police harassment in Phoenix that played havoc with his life but never destroyed his spirit. To report police abuse click here
Goodbye For Now – We Will Meet Again
I say goodbye to a friend
You forgave me for my wrongs
Even helped me with my songs
When I think of music
I think of you
In life you were never losing
You're a friend that was true
I say goodbye for now
As if we were on the phone
Your music always made me proud
And will always be in my home
I thank you for being a friend
Always looked at you as a brother
I will miss our conversations
A teacher of music like no other
I'll say goodbye for now
We will meet again someway, somehow
For you know I loved you
Your friendship was always true
May your songs live on and on
Your voice I will always hear
Friendship forever in a song
And you will always be so dear
To Bennie with love always,
Chester "friends forever" 11-3-05
Chester Wright
Bye bye sweet Bennie. I met Ben around 87 playing solo at Waynes West. He came up and asked if he could sing with me. Leery of letting strangers onstage, I said "no". Ben sat down in a booth directly next to the stage and sang with me from there. Beautiful harmony on every song. I asked him onstage and immediately became a duo. We seemed to know and love all the same stuff. I was so blessed to find him. Later we added Tambra and became Horsebeeks. We laughed so hard when we came up with that name. It was the worst of a lot of horrible names we came up with, but, to our surprise, Tambra loved it so we were Horsebeeks. Bennie had the most beautiful voice I have ever heard and I'm sure I'll never find anyone that's as good a fit. We read each other's mind. I have hundreds of tapes of us and a few  videos. We still love to listen to them. We laughed and sang a lot. What could be better than that? Except, perhaps, to be able to do it again. Somehow,some way, I'm sure we will. Sing and play beek! We love you and miss you.
Goodbye For Now
Matt and Tambra
Good-bye Ben, A great friend and a very special person.
A friend who's smile and laughter could shine light on those depressed and with hard times. Who had beautiful music in his heart and mind.
Good-bye Ben, one of the most talented people I have ever known.  I know that Jesus is waiting for you with a guitar in your new home.
Love forever,
Dave Wright
Comments: Bennie was one of the most talented musician's I have ever had the pleasure of meeting.
He always had a smile and a hug and was always glad to see me.  My fondest memory is of him singing "Unchained Melody" at the Karaoke Bar.  He was the DJ and the King of the room.  He was the energy.  People came to see him and to hear his beautiful voice. He was blessed with many talents and the natural ability to make beautiful music.
God Bless you Bennie.  You will be missed.
Candy (Dave Wright's friend)
I'm so sorry to hear of Ben's passing. Although I did not know him, I can see he had a smile that lit up the world.  My thoughts & prayers are with his family.  Peace…
Jasi
The best legacy we can leave in this life is to have made a difference in the lives of others. Looking back in reflection on Bennie and all the love and affection I've seen pouring out from those that knew him–is that he touched a place and space in their lives that nobody else could have touched. In a multitude of ways, he left calling cards here and there that were full of hope joy and discovery. Bennie never lost the child within, he continued  to explore an honest and innocent reaction to the world, no matter what was thrown at him. In this manner I am grateful to have had him as a lifelong friend.
Bennie, may your light shine always………
Andy Olson
So, So sorry for your loss. You and yours will be in our prayers.
Carol and Tom Catchings
Ben, Your songs will be missed and your smile will never be forgotten. Love you and miss you always!
Krystal
You changed my life forever–thru the 12 years I knew you, I found the most unique friend, artist, and soul-mate–will miss you always.
Tina/Tink..
Listen to a great song Ben recorded that is reflective of his soul.
So long, It's been good to know you!
For music & reflections on Bennie go Here