The Holy Grail of Underground Radio Comedy Programs Now Available from RFP
THE LOVE WORKSHOP BOX SET
A 6 CD collection of Love Workshop Shows
Restored and Remastered!
Now you can buy and listen to one of the most outrageous comedy radio shows that ever graced the Phoenix airwaves. The Love Workshop aired on the underground KDKB throughout most of 1976, and has been lost to time until now. Painstaking researched  and reassembled by Andy Olson, this show featured the talents of Todd Carroll and Wonderful Russ (Shaw) and a cast of whoever they could grab at the moment!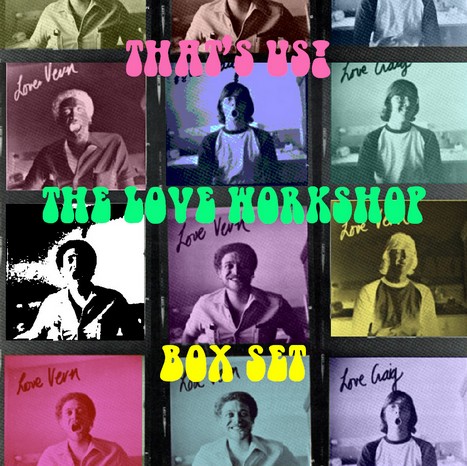 35 complete shows (over 8 hours!) – this is the most infamous program to air on Phoenix radio–featuring Wonderful Russell Shaw & Todd Carroll. This show ran throughout most of 1976 but was canceled on October 31st, 1976 as part of a mass firing of over 30 employees of the underground KDKB including program director Bill Compton. Enjoy the shows—and remember the days of free form rock and  stations where anything could happen–and did!
On Sale Now —Order yours today!
That's Us!
The Love Workshop
Box Set
$50.00 + $4.50 P & H