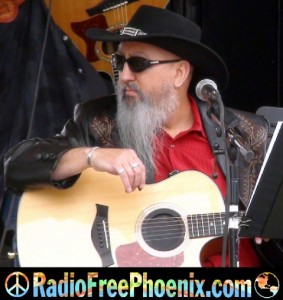 Not that long ago, listening to the radio was part of daily life for most Americans. Since the 1920s, when the first commercial broadcasts in the United States began, radio has been a part of our culture, despite the invention and proliferation of the television and other more "advanced" entertainment devices.
If you were born before 8-track and cassette tapes (remember those?), CDs, MP3s or hip hop, and you remember listening to your favorite FM (or AM) station, then you know what I'm talking about.
And, if you're like me and you're tired of listening to corporate-owned, Top 40 radio stations, or if you're sick of paying a monthly fee for a digital radio subscription to Sirius, then you should take a listen to http://RadioFreePhoenix.com where they feature Rock, Folk, Blues, Psychedelic, New Wave, Americana, Progressive and other musical styles from the 60's, all the way up to today's music. The dedicated staff headed by Phoenix, AZ radio veteran Andy Olson, brings back the heart, soul and passion of the great underground rock stations of the past.
You see, kids… back in the old days, we didn't have iTunes, iPods or subscription radio. If we wanted to expand our musical horizons, we turned on our radios. I don't mean a digital device that only carries a signal if you pay $21.00 per month. I'm talking about the thing that might disappear from the dashboards of new cars any day now, if we don't start paying attention to it. And, by the way, broadcast radio (via internet or airwaves) is still FREE! 24 hours a day, 7 days a week, sending out good vibes and great music at no cost to the listener!
According to RadioFreePhoenix.com's website, "…millions of people have turned off their radios over the years because they couldn't find anything worth listening to. The baby boomer generation of the 60's and 70's had the hope that anything is possible, and enjoyed this kind of musical freedom, not knowing that its time was limited and that radio stations all over the country would one day play a homogenized blend of music (no matter what the format) that disregarded the regional diversity that it was originally created in."
As part of its desire to continue to support musical freedom, RadioFreePhoenix.com is sponsoring the Going West Tour featuring award-winning songwriter, A Man Called Bruce (http://facebook.com/AManCalledBruce) based in southeast Tennessee.
It turns out that RFP's founder, Andy Olson has known A Man Called Bruce for many years. In fact, it was Olson who came up with the unusual moniker for the then young songwriter nearly 35 years ago, during his first solo recordings in Olson's basement recording studio.
Now, after going their separate ways for several decades, the songwriter and the radio entrepreneur have rekindled their friendship.
The station's sponsorship of the cross-country tour is an effort to bring attention to the finely crafted original roots, rock, country and blues songs written and performed by A Man Called Bruce, and the 8 year old web-based radio station, whose playlist includes artists such as Pandemonium, The Magnetic Fields, Neil Young, Tedeschi Trucks Band, King Straggler, Robin Trower, Molly Hatchet, Joey Ramone, Chris Stamey, Ken Sharp, Jimi Hendrix Experience, Miniature Tigers, Stevie Ray Vaughan, Ultravox, Moles, Lauren Christy, Fleetwood Mac, Phil Collins, Santana, Cranberries, Johnny Cash, and of course, A Man Called Bruce.
The Going West Tour begins in Nashville, TN at Ri'chard's Cafe on November 30th, and ends December 29th at Flipnotic's in Austin, TX. Included are stops at Java Cabana Coffeehouse in Memphis, Sauced on Paseo in Oklahoma City, Corrales Bistro Brewery near Albuquerque, Create Cafe in Tucson, The Sail Inn and Yucca Tap Room (both in Tempe, AZ), and Fiddler's Dream Coffeehouse in Phoenix. A venue for the show in El Paso, TX has yet to be confirmed.
For music, videos and more visit AManCalledBruce.com or check out his Facebook page.
Listen to RadioFreePhoenix.com online 24/7.
As published in PRLog