This page is dedicated to William Edward Compton.  Bill was the father of Free Form Underground Rock in the Phoenix area in the early 70's with KCAC and KDKB-FM. For 5 years (1971-1976), Bill was the the program director of KDKB. The DJ's picked their own music and the station had a full fledged news department. Along with boyhood friend, Hank Cookenboo, the air staff included Toad Hall, Marty Manning, Scott Nicolson, Nina Joy, Lee Powell, Dennis McBroom and many others, KDKB in those early years, created memories that still live on through the listeners that were touched by station and miss it. Radio Free Phoenix continues this legacy of Free Form Rock and has been for the last 9 years.
Several years ago I had the pleasure of speaking with Bill Compton's best friend in high school, Walt Chatham. Walt discovered Radio Free Phoenix while in search for information about the whereabouts of Bill Compton. He wanted to invite Bill to the 1964 class reunion of John Tyler High School in Tyler, Texas. Walt had no idea that Bill died in a car accident in 1977. He was shocked to say the least. I explained what a difference Bill made in the lives of the people he touched through the radio, the music he played and what he stood for.
Walt sent me some great pictures and articles about him and Bill Compton and I wanted to share these  on this page, so here's Walt…….
In 1963/65 while students at John Tyler High, a close friend of mine, Bill Compton, was a DJ at Tyler's KDOK. I was also a DJ at Tyler's KTBB. Just kids I guess, but we were given a chance. The school paper, " Lions Tale" did an article on both of us. My station was adult contemporary and Bill's, the evil Rock and Roll! We were on the weekends because of school. I had adult vinyl and the WCFL Chicago White Sox Network. All I did most of the time was wait until the end of an inning and play a spot. Oh yes, and the news. On the dreaded yellow paper. I remember announcing, "The Pope is dead".
– Walt Chatham
The above article is from John Tyler High School in Texas and their school newspaper, "The Lions Tale" – published October 10, 1963, featuring a new DJ named Bill Compton and his high school friend, Walt Chatham!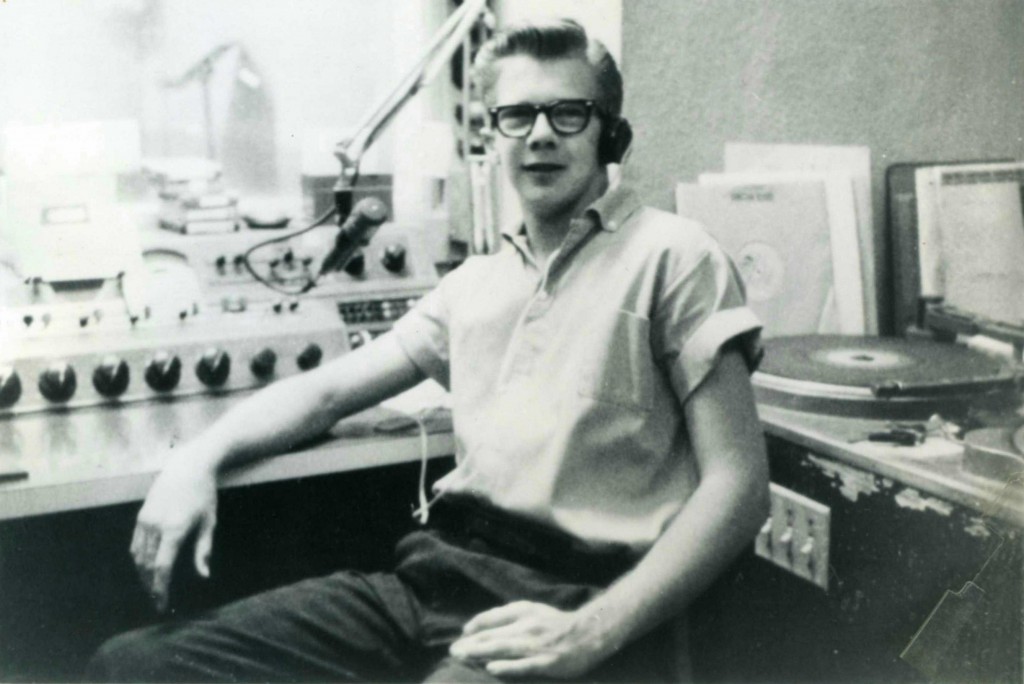 Walt Chatham at KTTB, Tyler, Texas
"Sweet and swinging sounds for a Sunday afternoon" that was my Sunday show. Bill called me on the phone gagging. (two) 17 year olds, what did we know? He played that Kinks, Stones, Beatles stuff, while I played Montavani and Strauss! That was when we had to "back time" the vinyl. Put the needles down, spin the turntable backwards so it would time with the news, brought to you by……….me!  (four) dings on the TT and it was a bulletin. Ran back to the TT room and pulled it off. "Gov. Wallace shot" Oh well………………..loss?
– Walt Chatham
Bill Compton in Shades
Good day!
I really miss Bill.
Andy, you just made my day.
It was at a school dance when the sun glasses subject came up. I asked Bill why he wore his sunglasses all the time, even at night. Bill simply said,
"When you are cool, the sun shines all the time".
Some guys just ended up with all the cute girls. How did he do it? The legacy lives on.
In art class I threw a piece of clay at the clock on the wall and missed Mrs. DeBorde.  Bill shook his head. I threw it again and hit it! Off to the Vice Principal's office again. Win the battle, lose the war!
The "Mike" mentioned in the yearbook signing was our friend. We were at "George's Chili Rice" in Tyler (open campus) when President Kennedy was shot, 80 miles from us. Bill did NOT like that, Mike and I didn't either.
– Walt
The pictures that have the name underlined are from 1963 yearbook. The other one is from 1964. Such a clean cut young man. Nothing like Jerry Garcia! God bless Jerry.
1963 John Tyler High School Yearbook
1964 John Tyler High School Yearbook
Hope these emails keep Bill's legacy going. Maybe they will help a little. Not too many people know, but Bill was an athlete. We all wanted him to play football. He knocked me on my arse many times. For little guys, like both Bill and I, Bill hit like a freight train! He always picked me up off the ground! I tried so hard to knock those sun glasses off, never succeeded!
In a final note…..
Thank God there were no videos or cellphones. Bill and I went to a vacant (haunted) home outside of Tyler. We had to pay $10 for a quart of beer in 1963 from bootleggers. We looked for ghosts. Tyler was in Smith County, dry county. Yea right.  Oh, 5 cents for Doublement gum to cover the odor when we got home. My Dad said you smell like Doublemint ……..and beer. You been with Bill? Nope!
Should have said yes………so?
Bill went on to become a respected DJ, and I just went to war with the rest of my friends.
God Bless Bill Compton and God Bless Rock and Roll!.
Walt Chatham
Listen to rare audio with Bill Compton from Tyler, Texas:
Bill Compton & Hank (Cook) Cookenboo – At the Drive-in

Bill Compton – KTBB Signoff
For more on Bill Compton, click on the following links:
Radio Free Phoenix – Guru of Goodness and Good Music
Phoenix New Times – KDKB At 20
KCAC Lives Blog – Obituary for Bill Compton
DwightTindle.com – KDKB Birth Pangs
Arizona Music Hall of Fame – Inductee Biography For William Edward Compton