#Iamallwoman- Spreading love and acceptance for women and those of all shapes and background to love themselves through body positivity . Courtesy of AllWoman Project, YouTube
As our World continuously becomes more advances and mobile, quite literally in fact does the imagery seen through that of popular media publications, video, photos, websites, many times to a point of sensory overload.
With a click of button, all of our news from friends to trending news surrounding topics of one's interest is available at the click of touch, sometime more by chance than selection.  Throughout modern history, the media has molded and displayed what should be accepted or deemed as acceptable when it comes to the products we purchase and to the very detail of how we should appear. When you pair the focus brought upon by fashion magazines, images of public figures that's utilized to sell products, draws pressure on one's self image and confidence.
More than ever, children starting from a young age have access to so much imagery as social serves as the quickest and most engaging way for impressional and becoming young adults to communicate among their appears. With so much at youngsters' hands these days, it's easy to become quite fixated and comparing yourself to the ideal portrayed by the media and friends alike.
New York-based fashion model, Charli Howard is no stranger to embracing her body "When I moved to New York from England, I discovered the world of plus size modeling.. these girls seemed so happy" she says, which allowed Howard, 26, to become more comfortable in her skin not only as a model but as a person. Her experiences in the fashion world led her to team up with a fellow model, Clémentine Desseaux form the All Woman Project
A "501-c foundation aiming to better the life of girls and women worldwide by displaying a true, beautiful, positive and un-retouched image of women in photo and video campaigns throughout the year. The AWP is also taking actions where body image and self-esteem is the most challenging, in schools, by organizing events, workshops and meetings with school girls form elementary schools to college. Providing girls with role-models and inspirations is how we plan on giving them the strength and self-esteem they need to be the strong women We believe greatness starts with self-love and we're dedicated to make every little girl convinced that she can do anything, regardless of her background or her body."
Along with their strong message for women and so many to be proud of their bodies,  The All Woman Project gives voice to so many to embrace every bit of their bodies!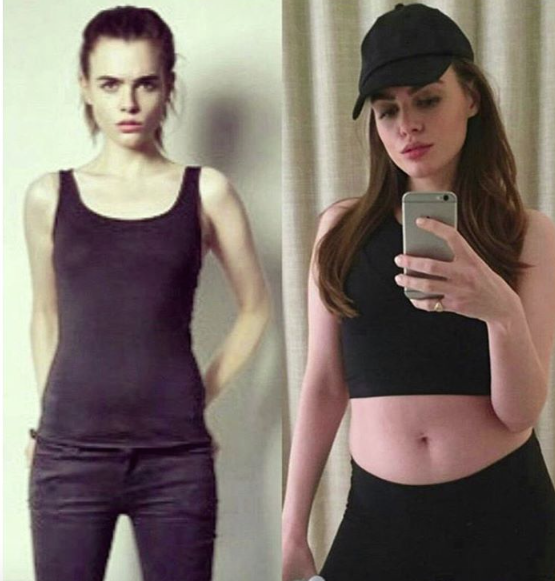 British born and New York City-based fashion, model Charli Howard, 26, is instilling body positivity as she shares her own photos through her own journey and expressing the importance of being proud in your own body despite what the media says is viewed as acceptable. The two photos compare her weight as a fashion model and UK on the left against her right photo as a model at Muse Management Modeling Agency in New York City. Credit @CharliHoward Instagram
#ImAllWoman
A message from Co-Founder, Charli Howard! ✊🏻✊🏼✊🏽✊🏾✊🏿
One of the many positive and inspiring posts the AllWomanProject share to help inspire women!
Follow the journey now by Visiting AllWomanProject.com or following on instagram, twitter, youtube or share your stories and ideas to Hello@AllWomanProject.com
---