By Michael Thomas, Jr. –
According to the Center For Disease Control and Prevention  an estimated 1.6-3.8 million sports and recreation related concussions occur each year in the U.S. In organized high school sports, concussions occur more often in competitive sports, with football accounting for more than 60% of concussions. For males, the leading cause of high school sports concussion is football. Among children and youth ages 5-18 years old, there are five leading sports oF recreational activities which account for concussions, in owe 60 percent of those cases, football is the most prevalent.
After his collegiate career at Arizona State and seven-year NFL career which ended in 2009 as a lineman for 5  NFL teams including the Arizona Cardinals,  Founder of Safe Football LLC, Scott Peters is now continuing his quest through his nonprofit business is continuing to make football safer for professional and young athletes across there world.
With the help of Safe Football LLC which was launched late 2012 by the 38-year-old Peters, said he started had a history of concussions throughout his professional which included severe neck and shoulder injuries from his and college playing days, including one sustained without any helmet contact.
Founder of Safe Football, LLC: Scott Petters is on a quest to help make football safe. Joe Giannetti/Photographing Strength"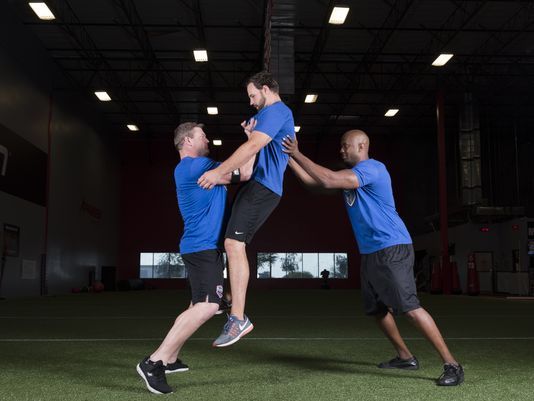 We're not saying in theory this works; we're saying we know it works," former NFL lineman Scott Peters (left) says of his Safe Football method practicing with the Indianapolis Colts.
(Photo: Joe Giannetti/Photographing Strength)
With Football injuries, Peters expresses that there is and will never be a helmet that will resolve the injury issues and the safest football involves simply not playing, Peters is out to show the techniques he developed that he believes will make the sport safer by using a combination of mixed martial arts and biomechanics that will create leverage, through that of skills and balance.    Peters says it's about "technique" by playing football the right way as the sport not meant to hurt someone but push players to create opening to progress the ball from moving down field for scores.  The great essence and concept of Brazillian Jiu-Jitsu is to apply leverage using the body's proper stance to generate impact, by applying both the arms and hands instead of  going headfirst an opposing player.
"What I learned in MMA and what I experienced in Football came together, so I thought of trying mechanical changes to meet football objectives, and the by-product of that was better performance overall." "I saw It's all-out creating a mechanical advantage" said Peters, who based in  Arizona where he played four years as a lineman for the Sun Devils in for Arizona State University, travels around the world applying his technique through Safe Footballs Initiatives.
From the experience, after finally retriting in 2009, Peters began training players and the nonprofit in 2012 as productive and safer approach to football.  Since it's initiation, Safe Football LLC  has been teaching  players  from Youth, techniques to avoid the using the head as much as possible, in order to protect football player on every level.
"We Started by first applying the techniques at Washington University"….I trained those guys for two years in 2012 and 13, I trained their offensive guys, their defensive guys, their coaches, and the strength conditioning staff really bough into to it, say Peters, which after the school integrated the drills into off season training, eventually increasing their performances overall, whit the school boasting it's best rush defense in school history. But what was even more surprising with the performance was that it did not come at injury the bodies with blunt force, as  the school's trainer called Peters, letting him know, noting zero concussions and related injuries for the first time in school history. Peters knew his application from the two sports as applied through  his founding Safe Football was providing solutions that no one else was providing in the field of Football. To date, Safe Football has worked with 12 NFL football teams
With approximately 3 million youth playing football, including major push made by colleges and the NFL to enforce a variety of research and efforts to reduce concussions, the nonprofit has a ready-made market for its offerings providing an array of program from youth to the Pro level.
Coaches and various sports groups are trying to make the sport safer without compromising the game. It has made head safety an issue with many former players suing the NFL about their injuries from concussions, he said.
Peters started training players and eventually began the nonprofit as a comprehensive approach to football. Its goal is to teach younger players techniques to avoid head that can cause brain damage so the game can continue and ultimately be even safer.
Make sure to Visit SafeFootball.org for more information and make sure to Follow Safe Football on Facebook, Twitter, YouTube and Instagram.
Safe Football LLC Summary:
About Safe Football
Scott Peters, a former NFL offensive lineman and sports-safety advocate, developed Safe Football in response to his awareness of concussions and Chronic Traumatic Encephalopathy (CTE). Safe Football is a proprietary instructional training and skill development system for football coaches and players. It is designed to increase on-field performance while simultaneously reducing head and neck injuries from helmet contact on the field. Since its inception in 2012, Safe Football has succeeded in reducing or completely eliminating on-field concussions and stingers (injury to nerves or neck and shoulder) wherever its techniques have been applied, and has has been endorsed by Neurologists for its mitigation of physical trauma to the brain. To date, Safe Football has delivered 750 clinics and camps, certified 5,000 coaches, and trained more than 40,000 players – from youth-level players to the NFL's Detroit Lions, USC Trojans, University of Washington, and others. For more information on Safe Football, please visit: safefootball.org. 
Description: A nonprofit aimed at developing safer playing techniques for football