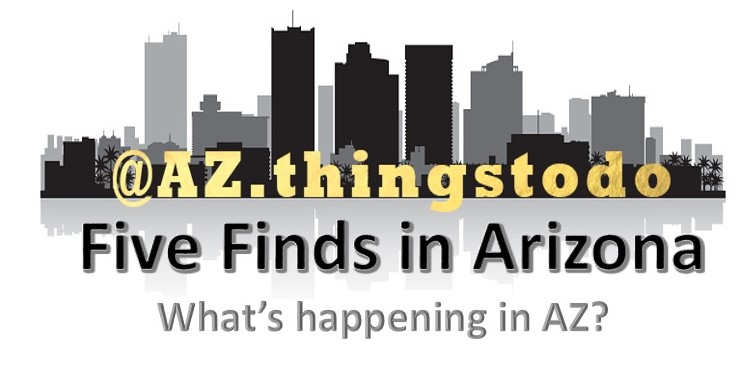 By Arianna Taylor
Arianna Taylor
My name is Arianna and every week I am going to be your resource for events happening around Arizona as well as cool places that you just have to visit.   Each week you can look forward to events ranging from sports, music, arts to family friendly fun.  I will feature events and places across the entire state of Arizona in order to keep you exploring all that this great state has to offer.  Stay tuned each week as I strive to keep you Arizona Informed!
Want to stay in the know every day?  Visit www.calichicainaz.com
Follow on Instagram @az.thingstodo
Lister to Week 3's Segment HERE-
Lister to Week 4's Segment HERE-

Hard Rock Cafe – Battle of The Bands – WINNER SHOWCASE
Date: Friday, July 28, 2017
Time: 8:00 PM – 10:00 PM
Location: Hard Rock Cafe 3 South 2nd Street, Suite 117, Phoenix, AZ 85004
The band LANE CHANGE was the winner of the Hard Rock Cafe's Rising Start Battle of the Bands. This event is their Winner Showcase 2 hour performance. There is expected to be lots of big surprises in addition to special guests, a Q & A opportunity and photo and memorabilia signing.
The band will also bring in a film crew to capture their rocking performance for their soon to be released DVD, "LIVE at the Hard Rock!" Come out and support the band and be a part of LANE CHANGE's history.
(18 and Over event due to the video production, however there will be a performance for all ages the following night)

CityScape's Urban H2Oasis
Date: Saturday, July 29, 2017
Time: 4:00 PM – 10:00 PM
Location: CityScape Phoenix 1 E Washington St, Phoenix, AZ 85004
This event is brought to you by CityScape Phoenix. Central Ave and Patriot Park will be transformed into a water park. There will be water slides, the splash pad and plenty of shade. Remember, we are Arizonians so don't forget the sunscreen and water socks.

National Dance Day Dance Party
Date: Saturday, July 29, 2017
Time: 10:00 AM
Location: Halle Heart Children's Museum 2929 48th St. Tempe, AZ
This event is being brought to you by EDM Body Fitness. In celebration of National Dance Day bring your entire family to this event and get on the dance-floor. Features include: Dance games, family teams and MORE! There will also be a balloon drop finale.
This event is FREE with general admission to the museum. (Children 3 and younger are free)
LASERS & LIQUOR: ROCK NIGHT (U2 & LASERPOLIS)
Date: Friday, July 28, 2017
Time: 6:00 PM – 9:00 PM
Location: Arizona Science Center 600 E Washington St, Phoenix, AZ 85004
Listen to your favorite music – Pink Floyd, Metallica, Nirvana and more – while being dazzled by the multicolored laser light show on the Dome. Enhance your experience and come early – beer, cocktails, snacks and other refreshments will be available from our concession stand 45 minutes prior to the first show. There will be an audio visual laser show as well as a high energy laser show.

ARTIST MEET & GREET
Date: Tuesday, July 25, 2017
Time: 6:00 PM – 9:00 PM
Location: FilmBar 815 N 2nd, Phoenix, AZ 85004
Each Artist Meet & Greet takes place on the last Tuesday of the month with rotating venues and is free to attend. This month the meet and greet is at the award-winning FilmBar Phoenix, and will feature stories of failure from artists and arts entrepreneurs. These unique artist gatherings are opportunities for local artists and creatives from all backgrounds and mediums to share their stories and ideas, strengthening the voice of our collectively creative community. Food and refreshment is available!
---