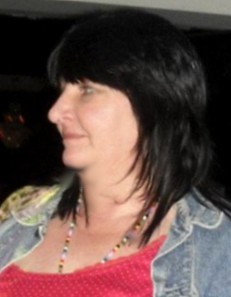 Lenise is originally from Detroit, and as an impulsive and impetuous teenager decided to relocate to London in 1983.  After working in PR over the years for other people, she set up her own small Music PR company, RelentlessPr in 2000.   She has NO musical talent whatsoever, but has always been obsessed with music (particularly The Who) and knows a good thing when she hears it.  Lenise had the honour of bringing the Fast Camels, Daniel Wiley, Alley Kerr, Golden Hour, Water School, Green Peppers, She Hit Me First and La Fleur Fatale to RFP and to the attention of the world at large.
She broadcasts directly from England every Saturday from 3-6 am (Arizona Time) with Cartoon World with an assortment of crazy, furry kids and  giving Radio Free Phoenix the UK slant.
Oh, and don't forget Otis – The Cartoon World Mascot!